---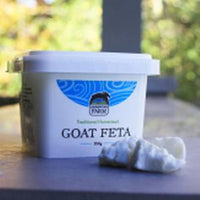 Locally farmed fresh!
Crosswind Farm goat feta cheese is made from Crosswind Farm goat milk. Feta is a mild, creamy and mouth watering cheese making this a healthy treat or topper for your pet. 
Crosswind Farm which was the first in Canada to offer on farm, fluid goat milk in small batches. They endeavour to make their bottled milk within hours of milking's, providing a refreshing smooth product. Nothing added, Nothing lost, and No Compromising!
The milk has a very high digestibility and palatability. It reduces allergy symptoms, improves skin & fur health, and is nutrient rich.
Ingredients: Pasteurized Farm Fresh Goat Milk, Bacterial Culture, Microbial Enzyme, Salt. 
Nutrient Profile: 
Crude Protein... Min 20%
Crude Fat... Min 20% 
Crude Fibre... Min 1%
Moisture... Min 54% 
Suggested Daily Feeding: 
Goat feta for your pet is intended for intermittent or supplementary feeding only. Not a complete diet. 
Suggested Handling Proceedure:
Take out individual servinsg to thaw while keeping the remainder frozen. 
ABOUT CROSSWIND FARM
Building on a long family tradition of farming, fostered by years of Kevin's experience in the Dairy industry and Cindy's knowledge of operations and marketing, it was a natural choice to begin their own family dairy farm operation. In 2006, just 15 minutes east of Peterborough in Keene, Ontario the journey of creating a dairy goat farm began. It started with the reconstruction of their 1800's barn to create a lovely home for their goats. In March of 2007, after a year of hard work, it was finally time to bring home the does! In just a month, they began shipping raw milk and the rest is history.