---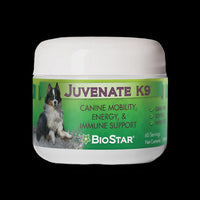 Canine Mobility, Energy, and Immune Support
Juvenate K9™ is a unique supplement for dogs for the support of healthy joints, circulatory support and weight management. 
This formula is especially beneficial for older dogs, and dogs who may be less limber and active due to joint issues. It supports healthy circulation, which is important for the delivery of nutrients throughout the body, and can be an important supplement for overweight dogs, supporting healthy blood glucose and a healthy lipid profile. 
Juvenate K9™
 provides the state-of-the-art Ayurvedic extract blend Crominex® 3+ (tested and proven with eight published clinical studies). Crominex® 3+ provides trivalent chromium, shilajit, and Indian gooseberry extract (aka Amalaki).
Available in:
• 60 scoops (twice per day = 1 month supply for a large dog)
Directions for Use:
(Scoop Included = 632 mg (1/4 tsp))
Once or twice per day, as needed:
• Dogs Under 10 lbs - 1/2 scoop.
• Small Dogs (11-25 lbs) - 1 scoop.
• Medium Dogs (26-99 lbs) - 1-2 scoops.
• Large Dogs (100+ lbs) - 1-2 scoops.

No Preservatives, Fillers, Binders, or added Flavorings (artificial or "natural")

 

Active Ingredients (per 632 mg scoop):
• Desiccated Beef Liver Powder .......611 mg
• Crominex® 3+......................................... 21 mg
   [Chromium complex with Phyllanthus emblic fruit extract (Indian Gooseberry aka Amalaki) and purified Shilajit extract]
Countries of Origin:
Desiccated Beef Liver Powder- Argentina, Crominex® 3+- USA.
Product Analysis
Per 632 mg Scoop
Calories
5.5 kcal/g
Crude Protein (min)
69.3%
Crude Fat (min)
13.2%
Crude Fiber (max)
0.82%
Moisture (max)
4.43%
Ash (max)
6.69%
Calcium (min)
0.16%
Calcium (max)
0.17%
Phosphorus (min)
1.03%
Phosphorus (max)
1.08%
Magnesium (min)
0.10%
Magnesium (max)
0.10%
Potassium (min)
1.32%
Copper (min)
22.6 ppm
Salt (min)
0.55%
Salt (max)
0.57%
Zinc (min)
96.2 ppm
Iron (min)
913 ppm
Mangenese (min)
4.5 ppm